Blog
Lighting 101: Key Certifications to Look For
Confusing lighting certifications? The 2nd blog of the Lighting 101 series covers all the important certifcations you need to know!
---
DLC, DLC Premium


DLC certification is a utility based initiative and one of the most important lighting certifications that customers look for. Many organizations offer rebate programs based on meeting DLC standards on a variety of luminaires such as but not limited to wall light, flood light, ceiling panels and high bays. DLC certifications require you to comply with 3 main aspects to the lighting which are distribution, color and longevity. These aspects must be tested by an accredited laboratory to be DLC certified. Testing results are submitted directly to the DLC by the manufacturer.
Notable RAB products with DLC Premium lighting certification would be LFX8-LED, HELIX-LED, WP-LED and many more!
UL Certification

UL stands for Underwriters Laboratories, UL standards are employed throughout many industries to assure specific product performance and safety. If a luminaire has a UL marking along with a control number, it means it has met all safety requirements for that specific environment. There are 3 main UL markings, dry locations, damp locations and wet locations. Products with dry locations certification are typically used indoors and above-ground rooms, such as bedrooms, kitchens, offices, retail stores. It is the most common certification amongst lighting and it is also known as UL Listed within the industry.
Damp Locations Rated

Damp locations certification is approved for lightings that are regularly exposed to moisture and condensation. However, it is important to note that your luminaire can only handle a limited amount of water exposure which means that it cannot be directly exposed to snow or rain. Main applications for this marking would be outdoor usage with some coverings such as patio or perimeter of stores.
Wet Locations Rated

Wet locations rating means that the fixture can essentially be installed anywhere and has minimal limitations dealing with liquid as this rating allows the luminaire to come in direct contact with most types of liquids. If the product is UL listed, it indicates that the product has been tested to meet the safety standards of the United States by Underwriters Laboratories. While cULus indicates that the product has been tested to meet the safety standards of Canada and the United States by Underwriters Laboratories.
ETL

Similar to UL, An ETL certification means that products have been tested to set safety standards. ETL has 24 different marks/certifications to indicate anything from safety to health and environmental benefits.
A product bearing the ETL Listed mark with the "us" identifier at the 4 o'clock position has been tested and deemed compliant to U.S. product safety standards only. An ETL Listed mark with a "c" identifier at the 8 o'clock position means the product bearing it complies with Canadian product safety standards only. And an ETL Listed mark with both "us" and "c" identifiers at the 4 o'clock and 8 o'clock positions respectively, signifies that the product bearing the mark complies with both U.S. and Canadian product safety standards.
UL and Intertek (parent organization of ETL) are some of the few NRTLs (Nationally Recognized Testing Laboratories), a third-party testing program overseen by the Occupational Safety and Health Administration. Main difference between UL and ETL is that ETL does not publish their own standards. Instead, they test components to established standards of other NRTLs such as UL, ASME and ASTM.
IP


IP known as Ingress Protection defines the level of protection for the luminaire against outside bodies like debris, dirt and different forms of liquid. The numbers that follow IP each have a specific meaning. The first number represents the degree of protection from moving parts, as well as the protection of enclosed equipment from foreign bodies. The second number indicates the protection level that the enclosure enjoys from various forms of moisture.
There are 4 common IP certifications amongst lighting, IP65, IP66, IP67 and IP68. IP65 suggests that the luminaire is "dust tight" and protected against water projected from a nozzle. IP66 indicates that it is "dust tight" and protected against heavy seas or powerful jets of water. IP67 highlights that it is "dust tight" and protected against immersion of water for 30 minutes at depths of 150mm - 1000mm. Lastly, IP68 is rated as "dust tight" and protected against continuous submersion in water.
Hazardous Locations (UL884)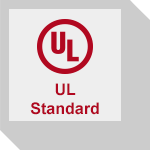 It is locations where explosion or fire hazards exist due to the presence of flammable gases, flammable or combustible liquid-produced vapors, combustible dusts, or ignitable fibers. Hazardous Locations are classified by the likelihood of an ignitable concentration of combustible material being present. There are two systems in place, including the traditional North American Division system as well as the alternative Zone system.
UL844, explosion proof lighting for Hazardous Locations–is one of several lighting certifications used in conjunction with National Electrical Code Classes, Divisions, and Groups of atmospheres for the selection of fixtures for normally and not normally hazardous locations where volatile flammable liquids, flammable gases, and combustible materials may be present in the atmosphere. Common examples of hazardous locations that require luminaire would be sawmills, grain silos or waste water treatment plants.
We previously covered this certification more in-depth in our LED Lighting In Hazardous Environments Blog!
NEMA 4X

NEMA stands for National Electrical Manufacturer Association. NEMA ratings are standards to justify the environment that the electrical fixture can be used in and are mainly applied to fixed electrical enclosures. There are many NEMA ratings for different circumstances but the one we employ for our luminaires would be NEMA 4X. NEMA 4X highlights that the luminarie is suitable for Indoor or outdoor use primarily to provide a degree of protection against corrosion, windblown dust and rain, splashing water, hose-directed water, and damage from external ice formation.
Shoutout to Ed Wynne of RAB Design for his expertise throughout the blog!