Blog
Doing More With Less in the Lighting Industry
Dealing with an overwhelming amount of lighting skus in your inventory? Learn more with our blog on how adjustable LED lighting can benefit everyone.
---
Table of Contents:
The Benefits of Adjustable LED Lighting for Distributors

The Benefits of Adjustable LED Lighting for Contractors

The Benefits of Adjustable LED Lighting for End Users

Summary
Technological advances in LED lighting have made it possible for lighting OEMs to offer more flexible LED luminaires that are lumen adjustable and CCT selectable. The additional flexibility and convenience of these luminaires is not only beneficial to Electrical Distributors, but to Contractors, Building Managers, and End Users as well. Take a look below at some of the details we've discussed to learn about how adjustable lighting can be beneficial to you.
The Benefits of Adjustable LED Lighting for Electrical Distributors
Reduced SKU Complexity
One Lumen Adjustable and CCT Selectable LED lighting SKU could replace many existing dedicated SKUs, thereby reducing the complexity that comes with ordering, managing, and database maintenance for multiple SKUs, as well as saving space in warehouses and showrooms for other products.
In the example below, a CCT Selectable sku brings the SKU count down from 3 to 1.

When we add Lumen adjustable luminaires to the equation, the SKU count is reduced even further from 6 SKUs in the dedicated option, to just one.

Easier to Satisfy Demand and Manage Inventory
To satisfy a diverse range of local demand for LED Luminaires, a typical electrical distributor would need to carry multiple wattage and CCT options for a product. With constantly changing customer needs, this can lead to dead inventory sitting on the shelves. You may be stocking lights that customers won't want in the future.
With more flexible luminaires, an electrical distributor is able to satisfy demand for multiple jobs, meeting a variety of needs without taking on the additional risk of having dead inventory.
The Benefits of Adjustable LED Lighting for Contractors
Less Back and Forth
With a range of customer needs and opinions, a contractor needs to ensure that they are carrying a light with the exact voltage, wattage, and colour temperature that a customer is looking for. Once you arrive at a job with a luminaire to install, a customer may change their mind, and you deal with the problem of, "do I have the right sku they're looking for in the truck with me?" or, "do I need to go back and order a different sku for this customer?". It can be time consuming to worry about going back and forth to pick up a different sku. This is why, with an adjustable luminaire, back and forth is significantly reduced, as you have a large range of skus all in one fixture that you're carrying.
On-The-Job Flexibility
Along with less back and forth when helping a customer, you also provide them with an exceptional range of flexibility while installing a fixture. This is helpful for customers that may not know exactly which specifications they need, or what would look ideal in a specific application. For example, look at lighting in kitchens. For kitchens with earthy, wooden tones, a warmer colour temperature works, while brighter primary colours and stainless steel appliances work well with a more natural white colour temperature. This is just one of the many details that a customer may know nothing about before you as a contractor arrives to install the lights.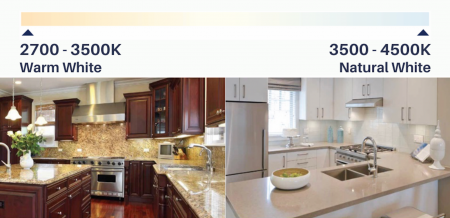 Quick, Simple Fixes
Adjustable lighting also brings with it the benefit of less maintenance over time. As customers' needs change, there's no need to spend the time and money to replace full light fixtures with different ones. With adjustable lighting, while some fixtures require the contractor to switch these settings within the housing, others have it placed on the outside for quick, accessible changes, and both of these options have no need for a new luminaire. With a simple flip of a switch, you can adjust the wattage or colour temperature.
An Example from RAB Design
RAB Design's WP-LED Wall Pack series recently transitioned to offer adjustable "all-in-one" SKUs. With colour temperature options for 3000K, 4000K, and 5000K, as well as 5 different wattage settings (80W, 70W, 60W, 50W, 40W) all in one fixture, this single sku boasts 15 different combinations of settings. What would have been 15 different skus in the past is now offered conveniently in a single efficient luminaire.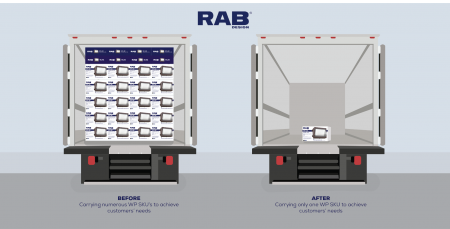 The Benefits of Adjustable LED Lighting for End Users
These new and flexible lighting fixtures provide a range of benefits for both distributors and contractors, but how do they help end users - the people that see these lights above them everyday?
Less Maintenance For Building Managers
As the owner/operator of a building, lighting fixtures that provide various options for colour temperature and lumen output are key assets to reducing maintenance needs, saving you time and money for years to come.
This is most easily explained with an example. Say, as a building owner, you lease out a building that is used as a store. The most recent tenants used it as a clothing store mainly targeted at teenagers, so they wanted dimmer, warmer coloured lighting to create the atmosphere they were looking for. Now, new tenants have moved in who want to sell jewelry, so they need the brightest, whitest lighting possible to show off the sparkling diamonds. Instead of having to replace all of your store's lighting with new, bright white lights, you simply need to adjust the switches inside each light fixture to match the new tenants' preferences.
This essentially "future-proofs" your lighting, with no need to replace fixtures in order to meet different needs.
Adaptable to Different Ceiling Heights
In industrial buildings and office spaces with different ceiling heights, different light levels are required to maintain uniform light distribution throughout a specific space. In order to conserve a consistent look using the same fixture, you can adjust the lumen output in different areas. For example, in a lower ceiling area you would adjust the settings to a lower lumen output, in order to match the look of a higher ceiling area.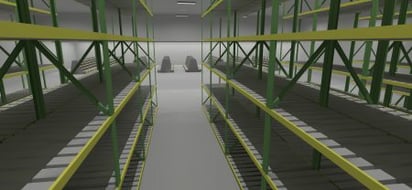 Courtesy of Geoffrey Walling of RAB Design
A Low-Cost Lighting Controls System
Dimmers and other controls can add additional cost to your project and that can be a huge financial burden for many end users. However, once you go with a lumen and CCT adjustable product, it acts as an efficient and inexpensive lighting control system and you can throw all of your previous dimmers and high-cost lighting controls out the window. End users would now have full control over their luminaires, at a significantly lower entry cost.
Flexibility for Residents
As the tenant of a home or employee in an office, although you may not deal with purchasing lighting yourself, adjustable fixtures can still help to provide you flexibility and convenience on a day-to-day basis.
First of all, similar to the contractor's side of things, when a fixture is being installed, you have the opportunity to see all your options and select which wattage and colour temperatures you prefer in a specific setting.
Additionally, if you are looking to lower electric consumption to save on costs, you can simply have the lumen settings adjusted on the already-installed lights. Similarly, if you are redecorating and would like a light's colour temperature to compliment a new paint colour, this is a simple adjustment to be made, rather than a full replacement.
Summary
So, why now? With constantly improving technology and cost-effective LED lighting, the question is why not now? Adjustable lighting is able to benefit every party involved in a number of ways, without increased costs or negative impacts on the environment.
In the end, regardless of who you are and when you use it, adjustable lighting provides the benefit of doing more with less. For distributors, this means reducing skus needed, which provides simpler management of inventory and demand. For a contractor, this means less back and forth and improved on-the-job flexibility, along with less maintenance in the long run. Overall, customers are provided with more flexibility in their lighting, while using less products.
Check out a few of our adjustable lights that we are proud to offer at RAB Design!