Blog
LED Lighting In Hazardous Environments
Hazardous working environment and struggling to find a lighting solution? Learn more here on how RAB's Hazardous LED solution would fit you.
---
Selecting appropriate hazardous LED lighting that meets specific certifications is not only important for properly illuminating a space, but also for the safety of yourself and others using that space. Each environment comes with different challenges, so we would like to walk you through some tips to take into consideration when looking at luminaires for farms, marine, and mine applications.
---

Lighting Challenges in Agricultural Applications
Many agricultural lighting applications contain hazards that require a special type of luminaire. Here are some of the key challenges and specs to look for in a luminaire for these applications.
---
Dust Explosions
Agricultural applications, like grain elevators, are a high risk for explosions given the right ingredients. These enclosed spaces are prone to the buildup of large amounts of dust suspended in the air. For example, grain produces dust when it moves. This combination of dust and air in an enclosed space creates a combustible mix that is flammable. When combined with an ignition source, an explosion can occur. Ignition sources could be anything from static electricity to a light switch, so using the wrong luminaire could easily have devastating consequences.
Hog Barns
With minimal ventilation and corrosive gases in the air, hog barns are also at risk for explosions or significant deterioration of materials within the building. As discussed in the Canadian Hog Journal, most of these buildings are completely enclosed for the pigs' comfort, with a negative pressure ventilation system. Ventilation is decreased even further in winter months for warmth. This therefore increases a luminaire's exposure to moisture and corrosive gases within the facility, pushing its limits to properly function.
Poultry Barns
Poultry barns are another environment in which you should carefully consider your lighting choice. Not only are they prone to buildups of dust like the previously mentioned applications, but they are also often steam cleaned to remove bacteria and viruses. So, you need a luminaire that can withstand this high pressure cleaning without issue.
---
There are many factors to consider in different agricultural spaces that could pose a danger, so this is why selecting a specific group of hazardous LED light fixtures for them holds a high importance in terms of your safety and others.
---
Hazardous LED Lighting Requirements
To greatly reduce the risk of dust explosion and provide peace of mind to your client, look for a fixture with the following certifications:
Hazardous Location Rated
We highly recommend using a Hazardous Location rated vaporproof - that is, completely sealed - luminaire, to prevent dust and dirt materials from entering and causing malfunctions or explosions.
UL844 Class II Div 2
One certification to look out for is UL844, specifically Class II Div 2 Groups F and G. This indicates that a luminaire has been evaluated and proven to safely withstand explosive dust atmospheres. By using a properly installed hazardous-rated LED fixture, you mitigate the presence of a potential ignition source that could cause an explosion in these environments.
NEMA 4X
In terms of highly corrosive environments, like hog barns, or extreme conditions, like high pressure steam cleaning in a poultry barn, we recommend a luminaire that is NEMA 4X rated. This means that it has been evaluated and rated to withstand corrosion and extreme environments, preventing unnecessary problems with your lighting in the future.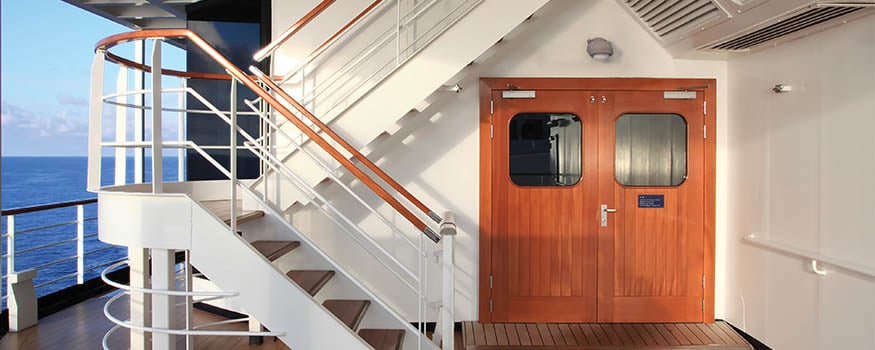 ---

Lighting Challenges in Marine and Offshore Applications
Lighting in Marine and Offshore environments comes with a whole set of different challenges that only specialized luminaires are ready to tackle.
---
Corrosion
Not every luminaire can withstand the tough conditions present in a marina, or beach and lake environments. Both freshwater and saltwater corrodes metal over time, but saltwater expedites this process roughly 5 times faster than freshwater. Even if the luminaire is not directly exposed to water, the humidity of ocean air can cause metals to rust 10 times faster than in air with normal humidity levels. Corrosion can lead to malfunctions, frequent replacements, and unsightly luminaires.
Water Ingress
Water ingress is another issue that arises when waves and storms cause large amounts of water to frequently hit the luminaire. The combination of water ingress and rust on a luminaire will significantly increase the risk of premature failure and cause a need for frequent and costly replacements. Choosing the right luminaire for a marine application will ensure it has the necessary durability and reliability, which saves you maintenance and replacement costs in the long run.
---
Lighting Requirements
To combat the harsh marine environments, you should look for a luminaire with the following requirements to ensure long-lasting performance with low maintenance.
Non-Metallic
A non-metallic luminaire is excellent at resisting corrosion, making it ideal for Marine environments. These luminaires typically have reinforced polycarbonate housing rather than metal.
UL Marine Listed
You will also want a UL Marine Listed mark on your luminaire. The UL Marine Listing guarantees that the luminaire has been rigorously tested and approved specifically for marine use. For these harsher environments, a luminaire needs more than standard wet location features to guarantee protection from moisture. A UL Marine Listed luminaire will ensure the fixture can withstand harsh marine conditions such as vibration, impact, water ingress, and salt-spray corrosion1.
1UL Standard for Safety for Supplemental Requirements for Luminaires for Installation on Marine Vessels. ANSI/UL, December 4, 2000.
NEMA 4X
Type 4X offers a superior level of protection from corrosion and extreme environments and is tested to withstand hose-directed water. With a Type 4X certification you can be sure you're getting a corrosion-resistant luminaire that provides protection against windblown dust and rain.
---

Lighting Challenges in Mine Applications
With over 200 active mines, Canada is one of the world's leading countries in minerals and metals mining. Luminaires play a critical role in assisting mine workers to perform their work safely by providing visibility of workspace tripping hazards.
---
Shock, Heat, and Vibration
Mining environments are not friendly for your typical luminaire, spaces are tight, and vibrations are frequent. Luminaires in mining applications must be tough, compact, and durable. Additionally, temperatures in mines can often reach over 40℃ when ventilation is not present. Hazardous-rated LED fixture is well-suited to reliably perform in extreme temperatures.
Explosions
The most common cause of a mine explosion is a buildup of methane gas combined with a heat source. Methane is a highly combustible gas and depending on how much of it is present in the air, it will only require a small source of heat to spark an explosion. This makes it especially important to have reliable luminaires in mine applications, so a faulty circuit does not spark a chain reaction.
---
Lighting Requirements
Due to the dangerous nature of mining, there are regulations in place to specify the requirements of a hazardous location approved LED fixture. Look for luminaires with the following certifications:
---
Class I and Class II UL Hazardous Location Ratings.
Class I covers Explosive Gas Atmospheres and Class II covers Explosive Dust Atmospheres - both are present in mining applications. Each class is divided into divisions which are then further segmented into Groups. For mining environments, pay close attention to Class I Div 2 Groups B, C, and D (Atmosphere containing flammable gas), as well as Group A (Atmosphere containing Acetylene - a gas used in welding). A luminaire with these ratings has been rigorously tested to be safe to use in Explosive Gas Atmospheres (Class I) as well as Explosive Dust Atmospheres (Class II).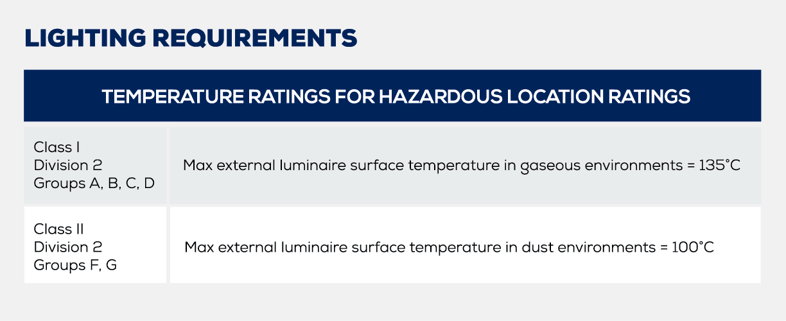 ---
Our Recommendation - RAB Design's Solution
The NMV-LED Non-Metallic Vapourproof Luminaire

---

RAB Design's NMV-LED Non-Metallic Vapourproof Luminaire was designed with all these severe environments in mind. This uniquely versatile and energy-efficient luminaire is the perfect solution where vapour and dust-proof, explosion-proof, hazardous, or marine-rated lighting is needed. Its durable, but hardy design ensures safe usage in a diverse range of applications, including the previously mentioned grain elevators, marine settings, mining applications, and more.
Click on the link below to head to our Infographic for more information and a breakdown of our recommendations!