Case Study
Crossfit Colosseum Adopts LED Lighting
Crossfit Colosseum Adopts LED Lighting
---
Background
CrossFit Colosseum offers high intensity physical training programs at their facility located in Etobicoke, ON. This facility has an area of about 15,000 square feet and is operational for 78 hours a week from 6am – 8pm on weekdays and 10am – 2pm on weekends.

Before
There were 31 low bay metal halide (MH) fixtures of 400W, each at a height of 12 feet spaced 25 feet apart.
Lighting and Operational Challenges:
The existing fixtures were intended for use in a highbay environment; however they were being used in a low bay application.
The fixtures did not have a lens at the bottom and caused a significant amount of glare.
High energy consumption of 13,640W.
The fixtures emitted large amounts of heat.
The start up time was 15 minutes.
The ballasts of the fixtures generated a constant humming sound.
After
The 400W MH fixtures were replaced by RAB Design's FW4-LED series of linear vaporproof fixtures. A one for one replacement solution using the 47W FW4-LED fixtures created a comfortable, glare free environment for visitors.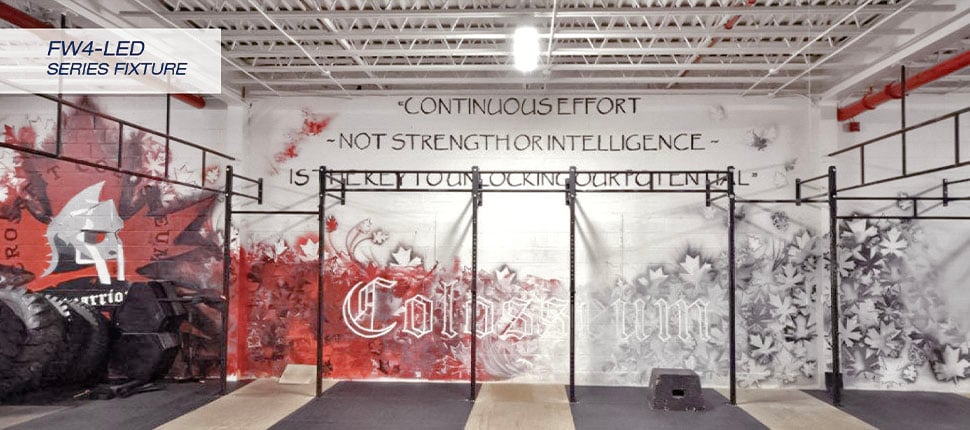 "The new lights make you feel a lot better while working out. The light is diffused so while doing bench presses and looking upwards, you don't get the glare in your eyes. There's no humming anymore. The place suddenly feels a lot quieter. It creates a better atmosphere for our customers. Even the signage on the walls looks cleaner." -Paul McIntyre, Facility Owner and Head Trainer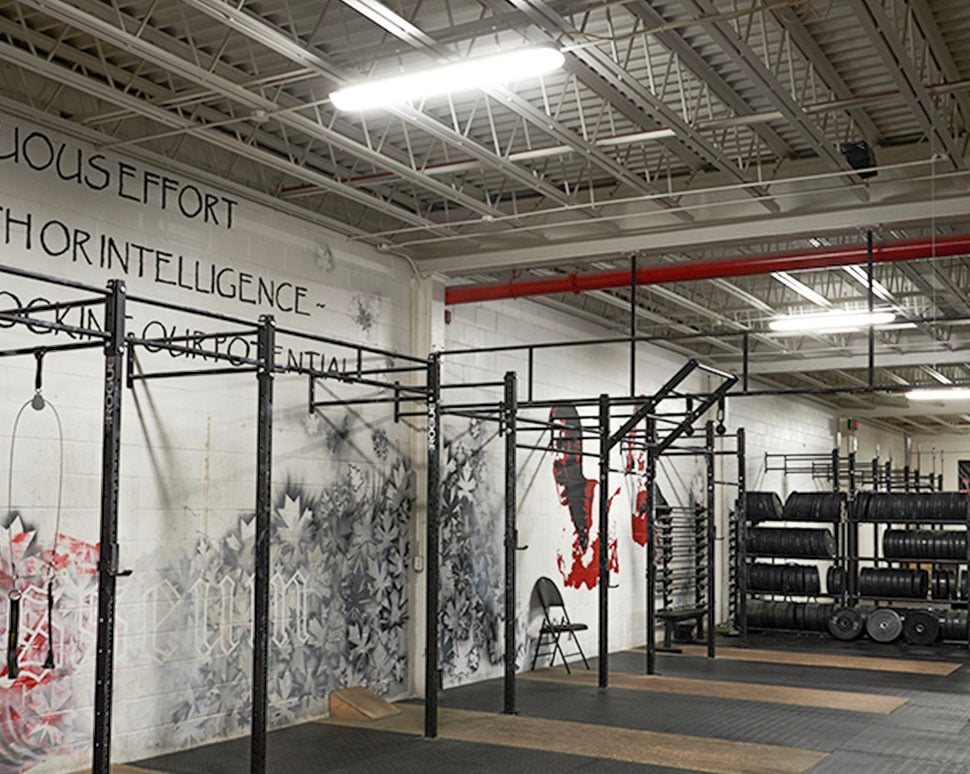 Results
This FW4-LED solution eliminated the hot spots and provided even light levels.
89% reduction in energy consumption leading to a cost savings of close to $5,500 per annum.
Negligible heat generated from the fixtures.
Instant on/off operation.
No disturbing humming sound.

Product Information: FW4-LED
Smart Design: the FW4 LED fixture is extremely durable with polycarbonate UV stabilized housing and lens which is tightly secured using 5 clips on each side for a stronger connection. A single conduit entry on either side, easy mounting brackets, a ballast tray tethered to the housing, strain relief for a tighter wiring seal and quick disconnect for drivers provide ease of maintenance and installation. This fixture is ideal for harsh environments and operates in temperatures ranging between -40°C to +40° C.
Ideal for a variety of indoor and outdoor environments such as underground parking garages, industrial facilities, commercial freezers, poultry barns.
Energy Efficient
FW4 LED series offers a minimum 30% – 40% energy savings over traditional fixtures.
The 0 – 10V dimming option and photocell sensor generate additional energy savings.
Limited maintenance since no ballast and lamp replacement is required.
Longer lifespan compared to traditional fixtures. Fixture life is 100,000+ hours.