Company News
Charles Gilmer Wins the 2021 RAB Design Award of Excellence for the EFC Scholarship Program
2021 EFC Scholarship Program Presented by RAB Design Lighting is awarded to Charles Gilmer.
---
Pictured above RAB Design President, David Beron presenting David Gilmer with the 2021 RAB Design Award of Excellence.
Toronto, October 1, 2021
We are pleased to announce that Charles Gilmer has been awarded the RAB Design Lighting Inc., Award of Excellence for the 2021 Electro-Federation Canada Scholarship program.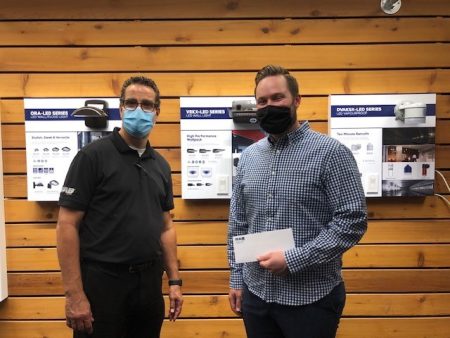 Charles is currently in his second year of a four-year program as an Electrical Engineering Technology – Control Systems student at Humber College. He recently began a co-op position with the City of Brampton's Public Works and Engineering department, working with the Street Light Team. It has sparked his interest in electrical infrastructure management and traffic signal control, which he plans to pursue further.
"I have learned that I thrive and contribute best when I have opportunities for continuous learning, applying technical knowledge, troubleshooting, and developing creative solutions. I have spoken to friends and peers working in electrical roles, and their guidance affirmed that a career in electrical engineering technology will offer these types of opportunities. I am so grateful to the RAB Team for selecting me as the recipient of this generous scholarship. It is wonderful and motivating to have the RAB Team believing in me, and I am excited to work hard and learn as much as I can. Thank you RAB Design Lighting!" said Charles.
Charles is a soon to be father and in his spare time, he enjoys engine repair and maintenance, woodworking, playing guitar and giving back to the community by volunteering.
"On behalf of the RAB team, I'd like to congratulate Charles on this well-deserved scholarship and wish him unlimited success in what we are certain will be a very bright future," said David Beron, President of RAB Design.
RAB Design Lighting is a Canadian owned and operated manufacturer of quality commercial and industrial lighting products. The Company has been servicing the electrical distribution market for more than 50 years. RAB Design is dedicated to bringing innovation in technology and energy efficiency to Canadians through our quality lighting products.